By Nigel H. Sinnott, Sunshine, Victoria, Australia
"Many a man lives a burden to the earth; but a good book is the precious life-blood
of a master spirit, embalmed and treasured up on purpose to a life beyond life."
– John Milton, Areopagitica (1644).
In the June 1991 issue of Biblionews I recounted my discovery, as a boy in the 1950s, of two seventeenth-century books in a Nissen hut on what had been a Second World War aerodrome in north Oxfordshire.1 The airfield occupied a tract of land between the villages of Enstone, Great Tew and Sandford St. Martin, and extended to the hamlet of Gagingwell, where I lived.
The books were the Lyricorum Libri IV of Mathia Casimirus Sarbievius, or Fr. Maciej Kazimierz Sarbiewski, S.J. (1595 – 1640), also known as Casimire2, published "ex Officina Plantiniana" (from the Plantin Workshop) by Balthasar Moretus3 of Antwerp in 1634, and a purportedly third edition of the Traité de la regale, perhaps by the Abbé Du Buisson, published by Nicolas Schouten of Cologne in 1681. The first book contained the Late Latin poetry of a celebrated Polish Jesuit; the second was a defence of the Bishop of "Pamies" (Pamiers, France), François Étienne de Caulet, who was involved in a protracted church-and-state dispute with King Louis XIV.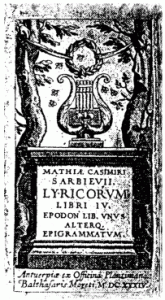 I thought it most unlikely that the books had simply been left behind by a serviceman at the end of the Second World War and, in view of the similarity of the vellum bindings, I assumed that the books must have come either from the private library of a local Recusant family or from a Catholic theological library. I made a few inquiries at the time of writing my earlier article, but nobody claimed the books or knew where …